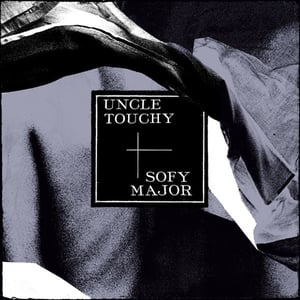 €

4.90
500 pressed on black vinyl.
50 copies for Europe.
Ho boy.
No List Record's final new release of 2012 is a split 7″ featuring two diverse approaches to the heavy.
First up is alumni Uncle Touchy, who grind out their sickest to date in "Endless Forms" and follow-up with a cover of DEVO's title track to their third album, "Freedom of Choice"…hardcore rager!
When Sofy Major told me of their plans to head into Co-Extinction Studio, I knew I had to hook them up with an artist that would help show them the American country-side. Two weeks out with Uncle Touchy was quickly assembled and this tour 7″ emerged. These cats even hooked me up with Hugues of Puzzle Records to do the artwork…check him out here:
http://www.puzzle-records.com/wordpress/?cat=15
"Bastion" was originally released as a cassette only bonus track from Sofy Major's 2010 LP "Permission to Engage".
Uncle Touchy side :
1. Endless Forms
2. Freedom of Choice (DEVO Cover)
Sofy Major side :
1. The Almighty Magic Water
2. Bastion